In support of our unique and talented communities, kART brings you 'art for your ears'. À la Kart's episodes 1 though 4 were brought to you by Suzanne Gillies who came up with and fabulously developed the idea from concept. these podcasts are insights into the work and lives of artists, curators, art administrators, and generally interesting characters and influencers who dot our cities. Future podcasts are presently on hold, but will surely continue once we develop a better way to get art to 'ur' ears. All episodes of À La kART have been recorded on an iPhone or digital recorder and are uncut & uncensored…Is this thing on? HELLO?
For kART's 5th episode, Alex Keim interviews dynamic duo Sarah Wendt and Pascal Dufaux in Charlottetown, PEI. Their performance was part of FLOTILLA/ FLOTILLE, a gathering of Canadian Artist Run Centres coproduced by Atlantis & ARCA (Artist Run Centres Association) where artists, arts administrators and performers come together to connect and network. For this event, Pascal and Sarah join dance with video resulting in a sculptural and visual journey of the body titled The Work of a Dance: A Short Term Archival Device. Using 'vision machines', they create a tunnel of time, layers of movement in real space and time, where Sarah engages the audience with her mesmerizing voice and movement. Listen to them talk about what drives them and how they have come to this point in their creative journey. And in case you didn't know what a Vision Machine is...well, just listen here. Dance on!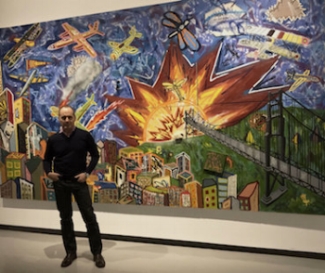 For our fourth episode, Suzanne spends a little time on Valentine's Day with illustrious Winnipeg Art Gallery Director, Stephen Borys. Once Suzanne settles into the plush leather sofas in Dr. Borys' office, they cover some fascinating history, do some time travelling, solve the current challenges of funding for the arts (Canada vs. USA), chat about the Inuit Art Centre, wax on the poetics of gallery goers and eat chocolates. BAM! WHAM! POW! We are in love!
in+front+of+Roger+Crait+painting,+Babble+on+Babylon,+2003+(WAG+Collection).jpeg
Episode 3:
For our third episode, Suzanne catches up with her dance partner, Graham Asmundson, in his studio in Winnipeg. They get down into his ritual art practice as a painter, issues of censorship - as well as other personal stories - like dispelling the rumours, trips to Paris and dancing at Club 200.
Episode 2:
In this episode, Suzanne sits down with artist Liz Garlicki at Urban Shaman Contemporary Aboriginal Art Gallery in Winnipeg. They talk bump n' grind, strippers, feelings of alienation from both the art and gay communities, the notion of personal fluidity, perogies, and of course, about her studio practice.
EPISODE 1:
With smart phone on hand and a technical trick or two up her sleeve, Suzanne Gillies helps us present our first À la Kart podcast, an interview with Kegan McFadden, an artist, writer and curator based in Winnipeg.
In this episode, Kegan shares insight into his controversial exhibition at the Canada Council Art Bank: Punctured Landscape, núna (now): SINCE THEN Group exhibition, and other projects.